Months of preparation and hundreds of training miles under my belt.  Pockets laden with energy gels, Jelly Babies and carbohydrate drink sachets.  Tyres pumped.  Garmin charged.  Time to go.
I set off for the Queen Elizabeth Olympic Park at 5:45am with a flutter in my stomach as I embarked on my début century and first Prudential RideLondon 100 adventure …
The perfect day
The  weather forecast was perfect – temperature in the low 20's, a tailwind for the return journey and most importantly, no rain.  This was going to be epic.  The start line was just a few miles away from the hotel, giving me a chance to spin my legs before the main event.  It was no surprise that the roads were full of fellow cyclists making the same short journey, and soon enough I was in a mass group, all of us chatting away about how the day may unfold.
On arrival at the Olympic Park you dismounted your bike and deposited your bag at your designated drop-off point.  Immediately you can see just how well organised this event is.  Each drop-off point is basically a lorry and you have to find the lorry that matches your wave colour and number.  You hand your drawstring bag to the volunteer positioned in front of it, and that's you done.
You have to make sure you have everything you need at this point because you won't get your bag back until the end.  My bag had a few post-race luxuries including some trainers, a Goodness Shakes ready-made recovery drink and a Mars bar.  Everything else I needed was either on me or on the bike.
Stand by
You get a rider card which shows you your wave colour and number, and so I followed the signs to find my fellow Blue wave M riders. Penned in like sheep, this was where you would stay for up to an hour – slowly moving forward as each wave departed.
I used this time to top-up my energy levels with Lucozade and go to the toilet multiple times.  I guess that was the nerves kicking in!  It was a great opportunity to have a look at other people's bikes and listen to the odd 'all the gear no idea' bloke bragging about how good they were.  Minutes later I'd be overtaking some of these oafs with a little snigger as they slowly fall behind on their Pinarello Dogma (the same bike Team Sky use).
Go-time
0714 hours.  The start announcer gives riders at the front of each wave the chance to choose some start music.  Our music ended up as Kasabian's "Fire" – way better than the earlier wave who had the theme tune to The Muppets.  By 0717 we were off and on the streets of London.
You need to be careful about your pacing during this exciting part of the day.  If you go out too fast you'll likely burn out on the hills or on the return into London.  After a few miles of soloing at a comfortable pace I eventually hooked on to some riders doing a similar pace to take advantage of some group riding aerodynamics.  I covered the first 10km at an average of 26.1 mph which was a blast!
After  the fast miles on the A12 you are soon heading past the Docklands and the awesome sight of Canary Wharf.  Following that it was pretty much a straight run into the City of London where I knew there would be some support waiting for me.
One advantage of having stayed in a hotel was that Jill and her parents, Di and Nick, had all stayed down to enjoy the weekend and cheer me on.  I knew (because we'd agreed beforehand) that they would be at the Underground sign at the Tower of London, and sure enough that's exactly where they were.  I gave them a wave as I passed and pedaled on.  The rest of this part of the route through central London was just amazing.  I'm so used to the city as a pedestrian but it was really special taking in the sights at speed on closed roads with thousands of other cyclists.
Mile 23
I had planned to go further before my first stop, but the portaloos were beckoning and I wanted to see if I could pick up some of the free Cliff energy products on offer.  I had been advised by the Cliff stand people at the bike expo that they would be quite limited so I made my first stop at Richmond Park to see what I could get.  The feed station was quite well stocked with Cliff bars, Cliff blocks and various other food items for consumption including bananas, popcorn and rice cakes.  They were also giving away free ORS hydration tablets that tasted really great, especially the Strawberry.  I might have to get some of them for the future.  5 minutes later – relieved and refueled I rejoined the throngs of cyclists and powered on to Kingston and Hampton Court.
Kingston on Thames is a place where a lot of the charities gather to cheer on the riders, so it has a carnival atmosphere even at 8:45am in the morning.  Great motivation.  I remember thinking to myself about whether this is what it's like to be a pro cyclist.  I saw the Prostate Cancer banners and gave them a big wave as they banged their drums and chanted "Go Prostate Cancer man!" as I pushed on into the distance.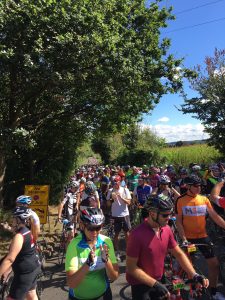 Mile 38
Once you cross the M25 and get out of the London boundary you know you're heading out into the Surrey Hills.  The roads start getting a bit lumpier and the villages become way prettier.  I was feeling really good and like I was ready to take it on.  I guess this is when the months of training kicks in and takes over without you having to think about it too much.
It was all going so well until mile 38 when everything just came to a complete stop.  For ages.  Something was clearly wrong.  Two Police bikes passed by, causing us to squeeze up on the left-hand side of the road, and two Air Ambulance helicopters landed in the distance.
Eventually we were told that a cyclist had left the road and had gone head-first into a tree, with the crash causing other riders to pile up.  I've never heard what happened to that cyclist since – I really hope they are OK.  After a good hour and a half we passed the scene of the crash and we were back on our way.  Seeing how thin and bendy the road was in Pyrford it was easy to see how someone could lose control of their bike at that point.
Into the hills
The hills of Newlands Corner, Leith Hill and Box Hill are one of the highlights of this event.  Living where I do (Cambridgeshire) you have to go far to find similar hills to train on – so this was always going to be interesting!  In training I had experimented with various methods of hill climbing and it seemed that the best option for me was spinning a granny gear until I reached the top.  I'd recently changed my cassette to a 11-27 so all was well in that respect.
Newlands Corner was surprisingly hard, mostly because of the length and steady gradient.  At about a mile long and an average gradient of 5% it offered more of a challenge than I'd expected.  Once at the top you get an amazing view of the South Downs which was a sea of lumpy green hills extending far into the distance.
Leith Hill was everything it was cracked up to be, and was actually quite enjoyable.  At a little under a mile long and with an average gradient of 7% it's a significant challenge for any cyclist.  The bit that catches you unawares is the short steep climb just before you make the turn on to the hill 'proper' – sneaky.  The advantage of this hill is that although it is still long and steep, there are parts that flatten out a bit which helps you to gather a bit of breath back before tackling the next steep section.  To my surprise I actually found myself overtaking plenty of riders which gave me a great mental boost on the way up – that weekend in the Cotswolds obviously helped.
What you can see below is my GoPro video that I took on the way up, with a GPS overlay from my ride data:
Box Hill, the last of the bigger hills, was made famous during the London 2012 Olympics and a place I was lucky enough to be cheering on Team GB four years ago.  It's memories like this that makes it a special and iconic cycling destination for many cyclists.  This is the longest of the RideLondon climbs coming in at 1.7 miles at an average of 5% gradient, so definitely one for spinning an easy gear until you reach the top.  Once you've puffed and panted your way up you are again rewarded with amazing views of the Surrey countryside.
Here's another of my GoPro videos with a GPS overlay from my ride data:
The return journey
After a short stop at the top of Box Hill to refill my water bottles and take in the view, I was back on my bike and heading into Dorking where the crowds had massed.  A lot of the towns and villages on the way seem to make the most of the day by putting on cycling-themed events with food and drink.  I suppose part of it is also that being in the middle of a closed road event means a lot of people can't get anywhere, so they may as well make the most of the situation.
The return leg is really fast, being mostly downhill (except for that bloody hill in Wimbledon).  It's not long before you are whizzing past Big Ben, up Whitehall and then turning left on to the Mall.  At that point I immediately decided that I had enough fuel in the tank to do a Mark Cavendish and sprint to the line, so after a wave to  Jill and her parents at the 300m mark I made the final push and crossed the finish line absolutely buzzing.  It was an amazing feeling to know that I'd done the full 100 miles without any problems and had really enjoyed the hills which had, until then, filled me with complete and utter dread.
After the finish you are funneled up past Buckingham Palace where you collect your medal (very nice it is too), your goody bag and then further on to be reunited with your bag full of post-ride luxuries.
RideLondon Surrey 100 – done
Given that I started the event with the view that I just wanted to complete it for the charity, I didn't push myself to breaking point.  I was really conscious of trying not to fail and also avoid falling flat on my arse.  I completed the route in just over 5 1/2 hours (excluding stops) which I was really pleased about, and I came to the conclusion that if I were to do it again then I'd be able to push myself harder to get a much better time.  I've included the Strava route below, which you can click for more information and ride data:
So would I do it again?
Abso-blimin-lutely.  The event is infectious, well-organised and a total thrill on the senses.  As a keen follower of the pro-cycling scene, knowing that I was on the same closed roads as my heroes and reliving the London 2012 Olympics all over gain was, for me, what made it so special.  To top it off I knew that I had raised over £700 for my charity – Prostate Cancer UK – and I had honoured their trust in me to complete it.
Some people have asked me if I have any tips or tricks now that I've done the RideLondon, but I'm not sure I'd be able to say anything revolutionary or anything you've probably never heard before.  What I can do it tell you what I did, in the vague hope that it helps someone in some way or another:
Do some training – It will give you confidence and the ability to deal with the harder parts of the course.
Plan your nutrition – I consumed 1 bottle of energy drink, 1 energy bar/gel and 3 jelly babies every hour.  That was enough to make sure I was taking on enough fuel for the whole event and avoid 'bonking'.  You also need to fuel properly for the couple of days beforehand.
Stay local – If you can, stay in London so your journey in the morning is easier.  I heard lots of stories of people unable to get to the designated car parks because of the closed roads – a stress I did not have to contend with.
Maintain your bike – Get your bike into peak condition by giving it a service and replacing anything that may cause you some trouble.  So many people were having mechanical problems that probably could have been avoided with a bit of simple maintenance beforehand.
Make a weekend of it – The RideLondon event is so much more than the 100 mile route on the Sunday, with the city transformed into a cycling festival.  On the Saturday we were able to hire some Boris bikes and take part in the 8-mile closed road FreeCycle – a great way to spin the legs at a gentle pace.
Go-on.  The ballot is open for next year, so why not give it a go yourself?  And if you don't think you can manage 100 miles then there is a 46 mile option instead.
It's not too late
My JustGiving page is still open for sponsorship and all the money will go to Prostate Cancer UK.  Having read my account of the event, viewed my pictures and videos, what better way to say "thanks" than chucking a few more quid their way by going to www.justgiving.com/ChrisoftheHays or by clicking the image below.  Thanking you.